In this week's studio we had our usual stand-up, this week including a one-line statement about our concept. The team talked about a series of one-liners together and landed on the following "E-mories, a distraction-free physical platform to remotely share personal emotions with close friends and family".
Prototype
Currently, my prototype is almost finished, all that remains is putting all components inside the ball. this proved more difficult than anticipated as nothing, not even silicone will stick to my ball. this means that I needed to sew all components inside and close the ball up with needle and thread as well. After doing this the first time I found out that the bend sensor was behaving very strangely, it turned out that it was folding itself between the two halves of the ball. After long deliberation and attempts, I found that putting the bend sensor in only one half was the best solution, although the squeeze sensitivity does suffer
Here are some GIFs I created for the website that show my prototype in action: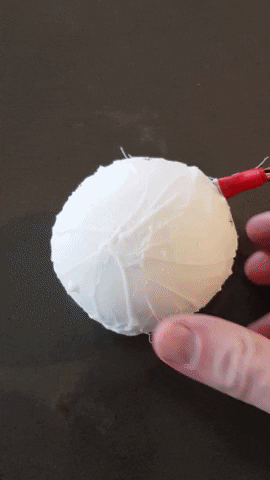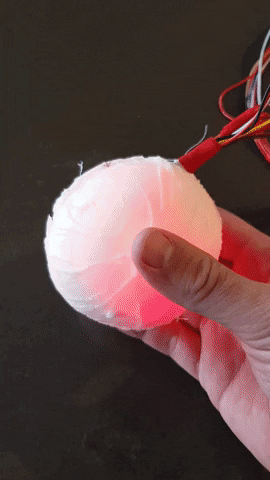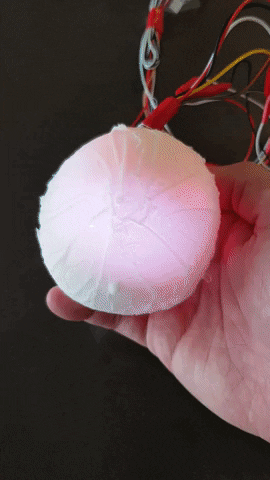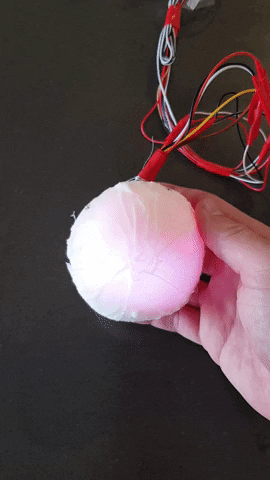 Portfolio
My portfolio is coming along fairly nicely, it won't win any design competitions, but visual-design has never been my strength so I'm not too fussed about it. I do feel this course has been a little repetitive in some ways, repeating everything we do in the proposal, the video, journals and now the portfolio. In addition, we have to reflect on the course and how our project is related to the theme etc again now in the portfolio, the team rapport and the final reflection paper, which to me seems like overkill. That said, I do understand that this type of reflection is important, I struggle with seeing the point of doing it three times in a row with no difference or changes in between. Finally, everything looks like it will be done for the exhibition, only the material study remains which I plan to do early week 13 so to have plenty of time analyzing the results and include them in the protfolio.